Opening concert: Trio Salona
September 25th, 2021

. Review by Christine Colbourne.
The opening concert of Haywards Heath Music Society's 80th season was given by Andrew Thurgood (violin), Sarah Carvalho-Dubost (cello) and Louisa Lam (piano). These well known, popular local musicians were making their debut as the newly formed Trio Salona. Judging by the enthusiasm with which their wonderful performances were received they will be a popular addition to the music scene.
From the opening notes of Rachmaninov's Elegiac Trio no.1 the large audience knew they were in for a treat. This Romantic work was delivered with a rich, warm tone and all the passion the music demands.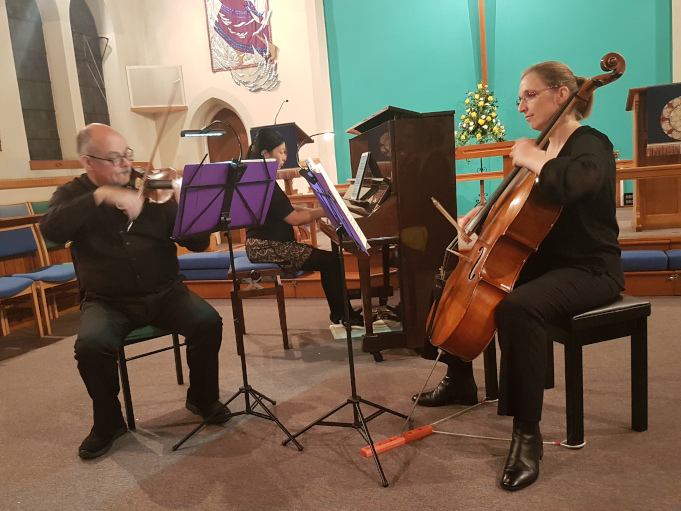 The sound was excellently balanced and the interplay between the instruments highlighted the very conversational style of the music. The Trio brought the same qualities to Shostakovitch's Piano Trio no.1, a work written in 1922 and using a different harmonic language. Again the music was intelligently and perceptively played with each instrument being given its chance to shine.
Sandwiched between these two works was a piece by another Russian composer, Tchaikovsky.. As a gift to the Society to celebrate its 80th year Andrew had arranged the Polonaise from Eugene Onegin for Violin, Cello and Piano. The much loved familiar music tripped along and was rapturously received by the very appreciative audience. After the interval came the greatest of Beethoven's works for this combination of instruments, the Archduke Trio. The music zipped along with commanding and scintillating performances from all three players.
This was a superlative account of a much loved masterpiece which captured all the various facets of the work. After this tour-de-force we were delighted they found the energy to play an encore.
Andrew wrote a short piece last year to celebrate the 250th anniversary of Beethoven's birth. The very clever two part work was based on a well known tune - Happy Birthday! What better way to end this glorious start to our 80th season. It has been said that Chamber Music is the music of friends and tonight's concert demonstrated this perfectly. These three musicians play with impeccable ensemble and perfect rapport. We wish them every success for the future